The whistle blow came like a relief to all. The home fans roared like lions let out of cage, driven by a madness of joy and hope. For everyone else, it was a much needed break; like a boxer who's barely survived the round, the away fans crawled back to their corner in pain, and in shame.
Gianluigi looked at the glowing lights scoreboard with disgust. The "5 – 0" shone bright, like every single light bomb was made sure to be working for that precise moment. It was a bitter drink. With his hands stuck in his pockets, he gazed across the pitch, with a ever dying drizzle running over his face. At the home end, the Empoli players celebrated their great victory with the fans, which guaranteed them a 2nd place finish, just enough to get promoted, on goal difference. On the other side, his players apologized to the away supporters. "Ciò che non guadagniamo col sudore ritorneremo con i soldi" the captain Andrea Luci told the tifosi. "What we haven't earned with our sweat we'll give you back with our money"; the players, embarrased by their performance, would pay the fans their tickets back. Gianluigi wondered if he should do the same. It wasn't at all his fault, an early red card had thrown all of his plans to hell and besides the top half finish was already secur…
Someone gave him a slap on the back.
"At least it's all over now", Simone said, standing right next to him.
"It is", he answered.
It was. It had been a tumultuous season but now it was all over. All objetives secured, all targets for the next market locked in, all contracts renewed. All work was done. All work was to come.
The Empoli manager approached him, drenched in rain and sweat and beer, with a smile wide as the pitch he struggled to hide in to show respect.
"It was closer than the result suggests", he apologized.
"It wasn't", Gianluigi answered jokingly, "Best of luck next season".
"You too!", he said.
They shook hands, and then Gianluigi went to the Assistant Manager to congratulate him too. Then to the away fans to thank them for the support, then to the dressing room, the team chat, the showers, and getting your things ready, then the press conference, the flashes, the shouting, the not-so-clever guys trying to score points with their bosses, the familiar faces and silly remarks, then leaving the stadium (the security personnel always helped with that), getting everything and everyone on the bus and trying to find some peace and quiet and wait for everything to start again.
It wasn't until the bus started moving that Gianluigi realized how tedious all that had become, how common place, how familiar. It was his day-to-day, his job, he had done it for almost a year now. He belonged there. It was a strange feeling. It wasn't so bad now that he'd got used to it. His first season was over. The next one was just about to begin.
---
Mr. Anderson, welcome back
It's been a while, eh guys?
First of all I want to apologize for the lack of content. It's been a complicated couple of months; been busy moving, looking for a job (still struggling with that one) and trying to get some personal projects (this one included) back on their feet. I will also admit that the early struggles with the Livorno save had me a bit disenchanted, particularly with the first couple of tries always ending up in bewilderment and frustation.
But fear no more, for the telling of Gianluigi Lucarelli's epic in charge of his boyhood club is back. So, what's happened since we last met? Quite a lot. If I recall correctly the last episode ends just before the winter transfer window with a promising 11th place and the hope of what the Youth Intake might bring. So, how did it all turn out?
It's not me, it's you.
Right as we cleared the mess left over from the New Year's Eve party, the Winter Transfer Window was upon us. Livorno arrived with a well balanced if sometimes underwhelming squad, so no big changes were expected, unless we received big offers.
The first player to seal their ticket out of the Stadio Armando Picchi was rumanian Adrian Stoian who complained about lack of playtime and jumped at the opportunity to return to his homeland, leaving for 550k to CFR Cluj.
No further move appeared to be on the horizon until the big money players arrived from the Premier League. Watford came asking for Luka Bogdan and there was no holding him in place. In the end, we agreed to a 3M fee which will go a long way in helping the always delicate economy of the club.
So who did we bring on as replacements?
The surprise sale of Stoian gave me the opportunity to add some much needed physicality to the front line. Raicevic and Murilo were scoring more or less consistently but the guys on the bench weren't on the same level when it came to pace, stamina and strength.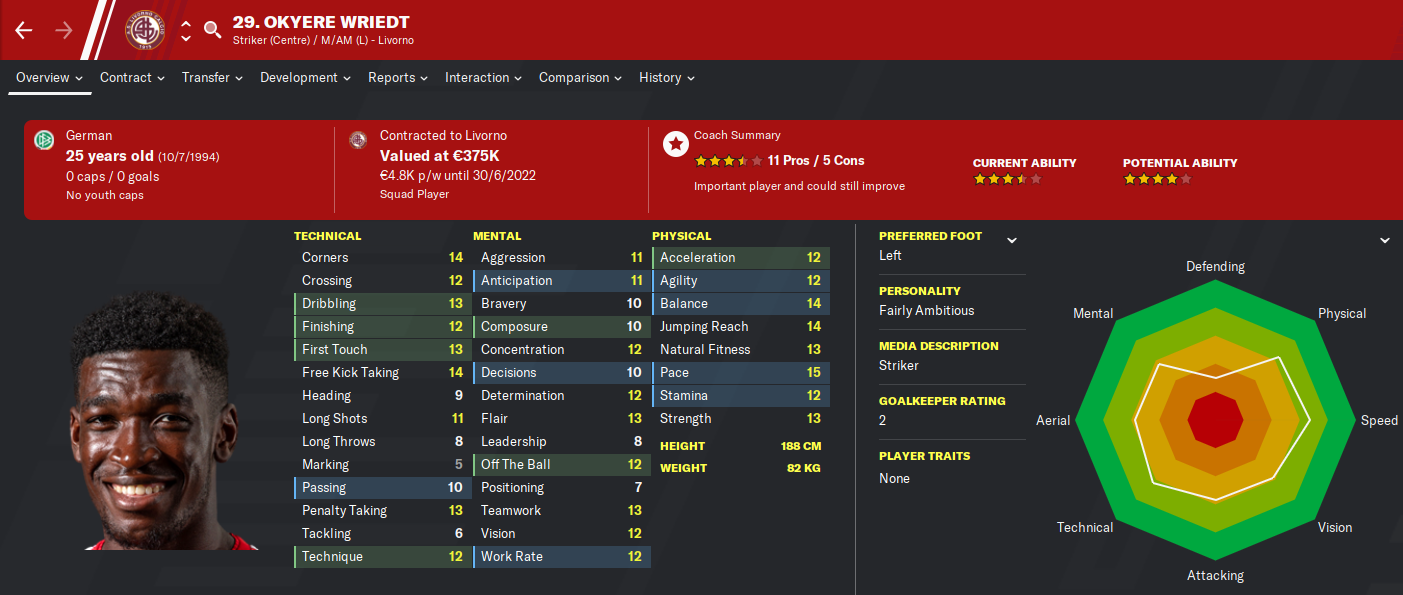 For a meager 50K out of Bayern's second team, Okyere Wriedt give us some vital physical intensity either coming from the bench or starting out wide (a very necessary option on the left flank, where Brignola and Porcino have been falling short), plus he opens up the possibility of playing a Target Man or a Pressing Forward down the line. A neat piece of business that hopefuly will pay dividends.
On the other hand, replacing Bogdan was always going to be a tough ask; he was arguably one of the best CBs of the league and certainly Livorno's leading defensive figure. With no chance of a in-house replacement and our cheaper options failing to make the grade, it was imperative to bring a player ready to wear Luka's big shoes from the get go and be a positive influence for the defense.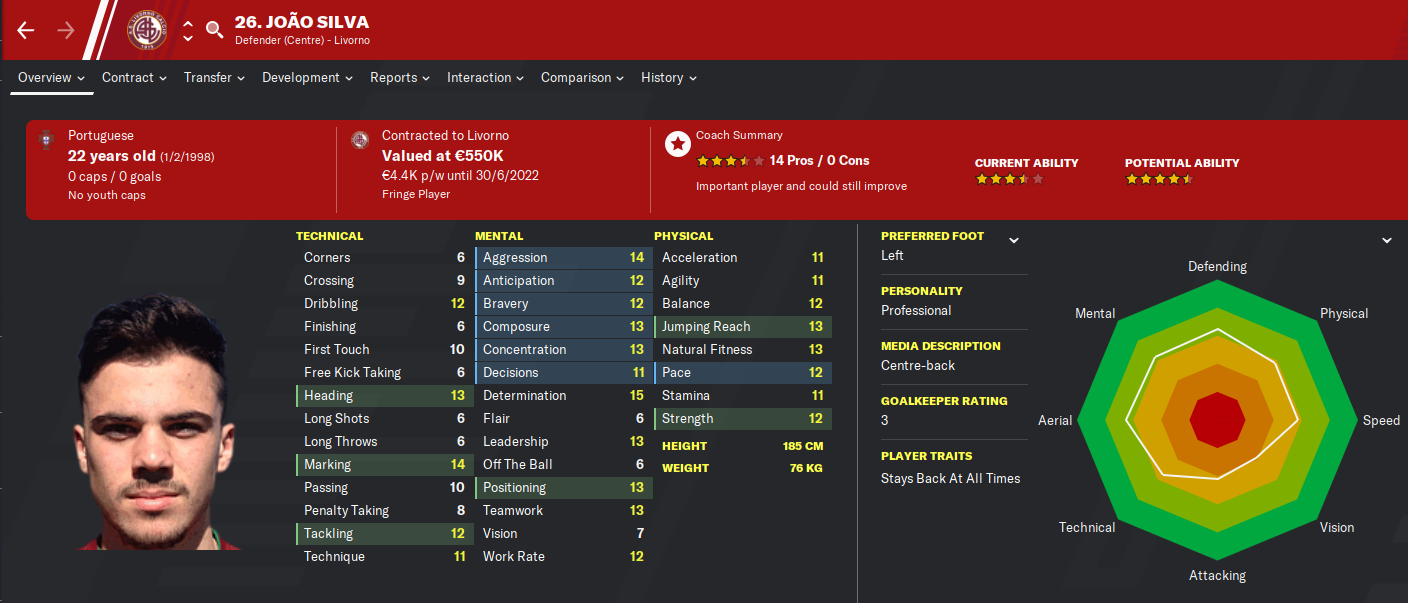 Joao Silva was the chosen one, arriving for 900K from relegation strugglers Trapani. He's not quite at the same level as Luka was, but he's still young and I really think he can go on and develop accordingly, and with a good personality and good enough Determination, he could prove an important figure for the dressing room going forward. If we keep hold of him for long enough, that is.
The ones we kept
My grandfather used to tell joke where two old friends meet after a long time and one of them introduces his kids to the other one; the guy then says "Man, these are some ugly children", and the father replies "And these are the ones we kept". It's not that funny, not even when told by my grandad doing voices and all, but it sure stuck with me and it was precisely my thinking when the Youth Intake day came around…
Building a strong youth team with a amaranti identity was one of the key aspects I wanted to develop in this series, but the first crop leaves a few things to be desired. Still, not everthing is bad and we kept two young guns with decent enough potential to develop into interesting players.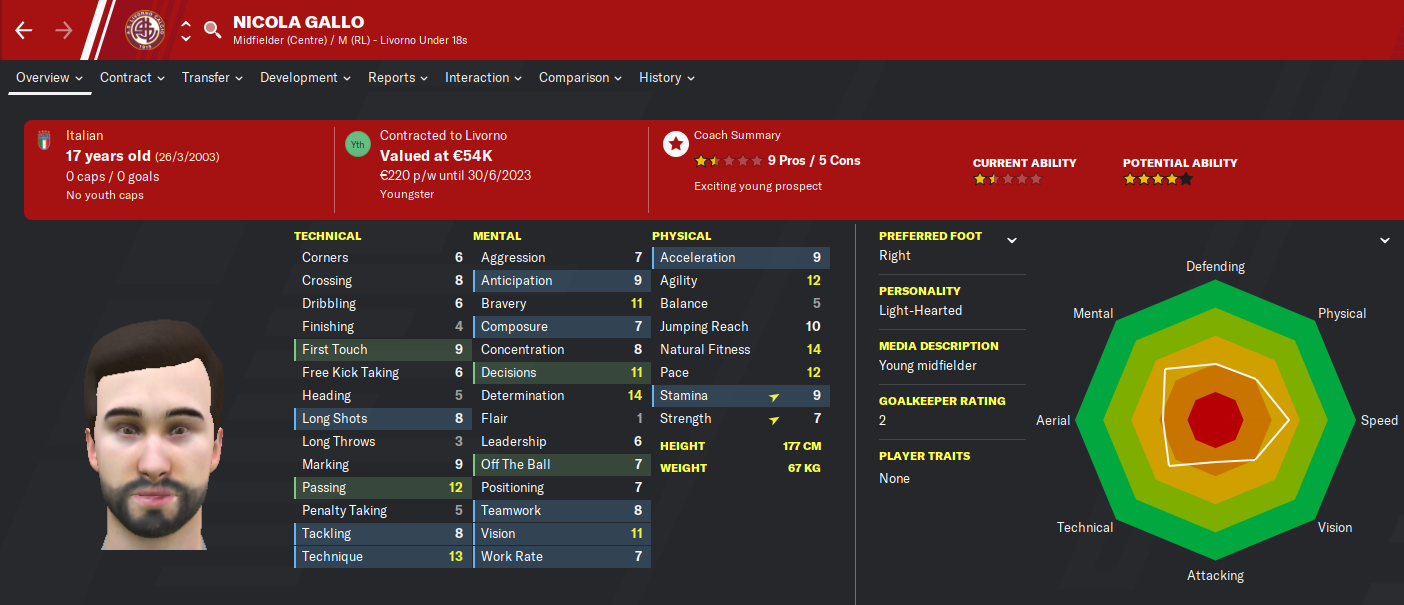 Nicola Gallo has the makings of a serviciable playmaker, with decent enough Passing, Technique and Vision though he'll have to work hard on his game. His personality is a bit worrying but with good enough determination and the right role model he could develop nicely.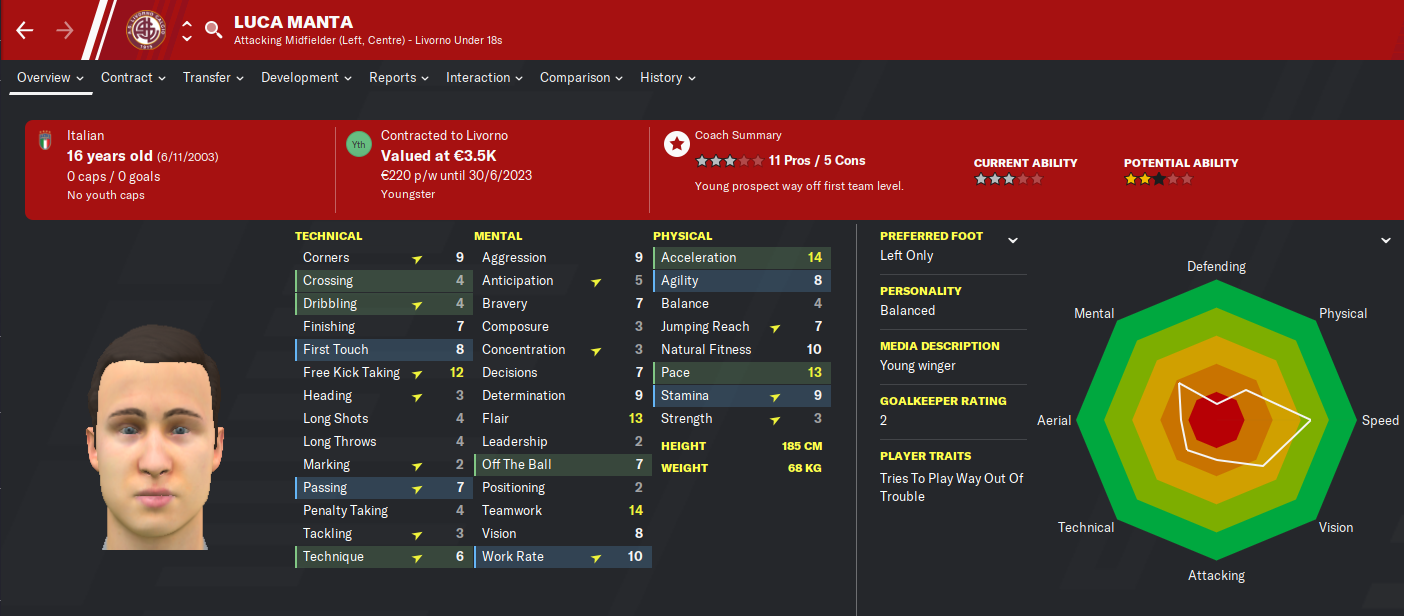 On the other hand, Luca Manta has a lot more work to do if he's ever to become a first team regular. Not much of a player there other than decent pace and teamwork. He, however, has a quicker route to my heart, he's a born and raised livornese. No free pass into Gianluigi Lucarelli's teamsheet though and he'll have to work if he's ever to wear his favourite club's shirt.
Consistently inconsistent
So, where does all of that leave us? Well…quite literally middle of the road. We struggled to hit good form all season long, with some good patches being cut short by the inevitable disappointing spell.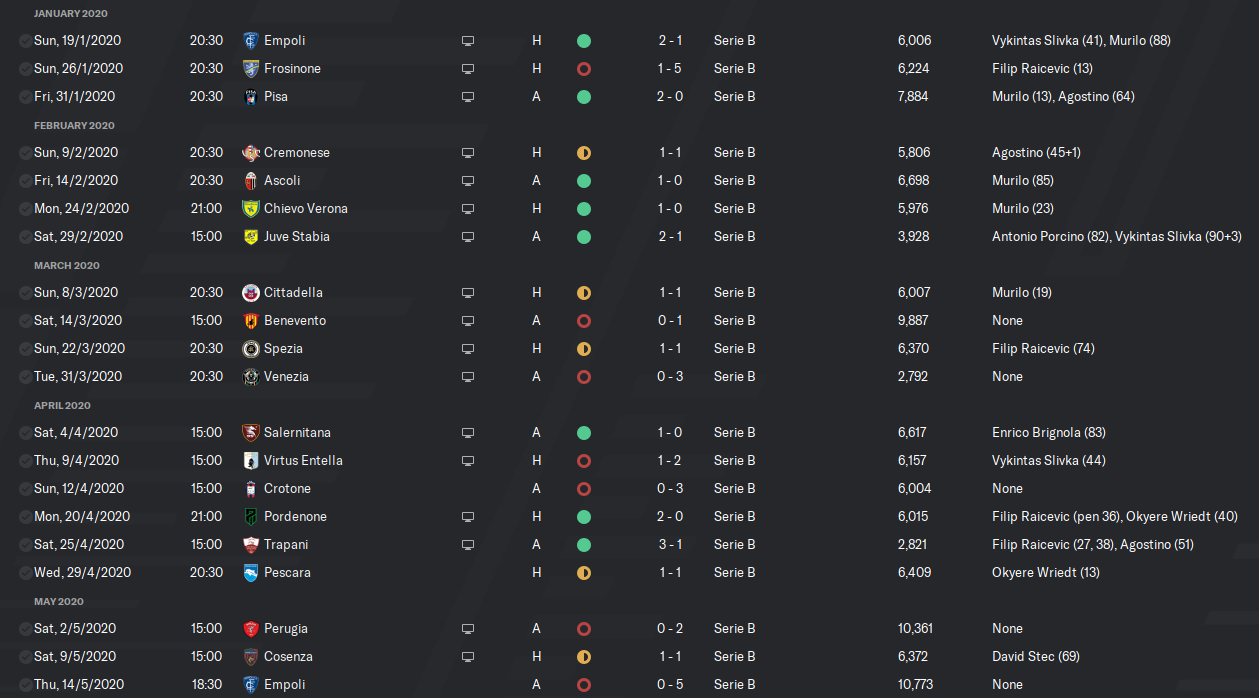 After a fantastic beginning of the year we hit a really hard wall in March (maybe the players were as let down as myself by the Youth Intakes?). A decent enough points tally on the month of April was marked by two dismal losses against middle of the road rivals Virtus Entella and Crotone which could have meant a couple of positions lost when all was said and done.
It was a shame to end the season with two losses coming very closely together but it was all we could manage against top of the table Perugia and 2nd place Empoli, who defended the last automatic promotion spot from hopefuls Benevento on the last matchday on goal difference, battering us just in case. The final table was this: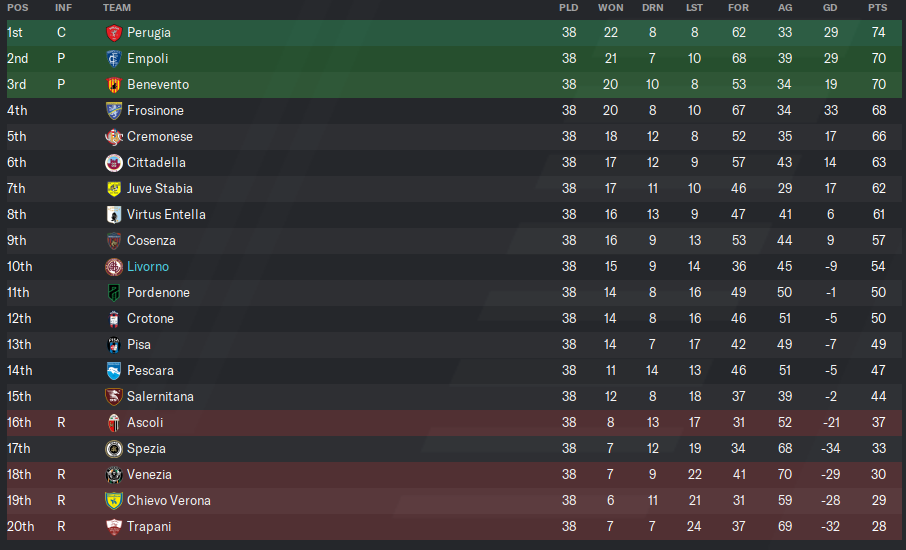 After soaring as high as 7th at one point we end up managing the top half objetive by the skin of the teeth. It was a bit of a shame as even the 8th place team gets a spot in the promotion playoffs, but god knows we're not ready for that. In the end, I'm happy with it. After all the early struggles and all of the work that went into getting this team going, it's a good enough prize. We'll continue to build on it, come back stronger, and hopefuly start working towards a Serie A spot soon enough. After all… we don't run away from the grit and grind here, it's the Livorno way.
Thanks for reading, Rock's End FM.